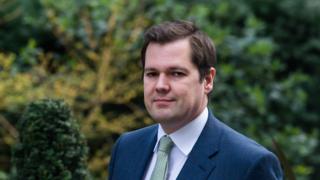 Housing Secretary Robert Jenrick texted the businessman behind a controversial planning application in November while preparing to decide whether to approve it, newly published documents show.
Messages released by Mr Jenrick show he told Richard Desmond he hoped to see him soon, after sitting next to him at a dinner the night before.
Labour said it showed "discrepancies" in Mr Jenrick's account of events.
But Downing Street said Boris Johnson now considered the matter "closed".
The UK's top civil servant Sir Mark Sedwill has rejected opposition calls for an investigation into Mr Jenrick's conduct – and whether he had broken the ministerial code – saying he had given a "full and factual account" of his actions.
Under the code, ministers must "declare and resolve any relationships", report any social contact with interested parties and and "take decisions impartially, fairly and on merit, using the best evidence and without discrimination or bias".
Mr Jenrick released the papers after pressure from Labour, who claim his approval of a massive housing development on the site of the former Westferry Print Works in east London raised suggestions of "cash for favours".
'Apparent bias'
Richard Desmond made a personal donation of £12,000 to the Conservative Party 12 days after the minister overruled government planning inspectors to approve the development, in January.
Mr Jenrick's decision to approve the development was later challenged by Tower Hamlets Council, forcing the secretary of state to say what he did was "unlawful by reason of apparent bias". It is now being handled by another minister.
The housing secretary insists he had no knowledge of Mr Desmond's donation and that his decision to overrule the inspectors was "not unusual" and motivated by a desire to see more homes built.
Business Minister Nahim Zahawi told BBC Radio 4's Today programme: "Getting stuff built is important to Robert Jenrick, that was his motivation.
"But when there was a perception of bias, he pulled back on this, pulled the plug on it and will now allow a different minister to decide the scheme.
"The access didn't buy this billionaire a decision."
Fundraising dinner
The documents include personal correspondence between the minister and Mr Desmond, owner of property developers Northern & Shell, in the run-up to the planning decision on 14 January.
They show that in the aftermath of a fundraising dinner on 18 November, in which Mr Jenrick sat next to the businessman, Mr Desmond requested a meeting with the minister and suggested he visit the site on the Isle of Dogs.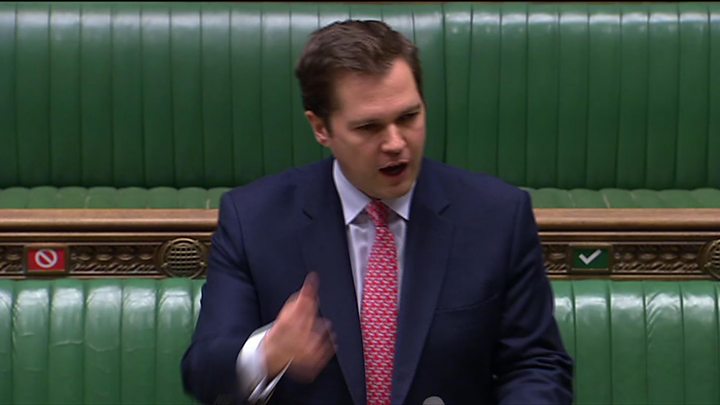 They show Mr Jenrick asked a member of his staff to arrange a meeting with Mr Desmond the day after he sat next to him at a fundraising dinner, at which the businessman showed him a video of the planned development on his phone.
But the next day Mr Jenrick said by text that they shouldn't meet again to avoid "any appearance of being influenced".
The arranged meeting appears to have been cancelled nearly a month later because Mr Jenrick had to be in Parliament for the Queen's Speech.
Mr Desmond, the former owner of Express newspapers, had been lobbying for the proposed 1,500-home development to be approved before the local council, Tower Hamlets, introduced a new Community Infrastructure Levy to pay for local services.
Mr Desmond sent a text to Mr Jenrick saying, in apparent reference to Tower Hamlets' Labour council, "we don't want to give Marxists loads of doe (sic) for nothing".
The documents released make clear that Mr Jenrick supported the housing project, in the face of opposition from his officials – and was keen to make rapid progress with the decision.
In one document, a civil servant said Mr Jenrick wanted the development signed off the following day, adding "on timing, my understanding is that SoS is/was insistent that decision issued this week ie tomorrow – as next week the viability of the scheme is impacted by a change in the London CIL [Community Infrastructure Levy] regime".
The view from Tower Hamlets
By Steve Swann, BBC News
It is the timing of that decision which is the greatest cause for concern among those living close to the site.
It came the day before a new community infrastructure levy was introduced, saving the developer an estimated £40m that could have been spent on schools, transport, hospitals and sports facilities.
"I really feel that I've been a bit cheated to be honest with you," says local resident Ruth Bravery, who runs a charity that helps the destitute in East London.
"That meant that the local people are really going to lose out as a result."
Mr Jenrick also released a letter to the chair of the housing communities and local government select committee revealing that he informed civil servants of the dinner with Mr Desmond a month later, in December.
Labour said the "explosive revelations" suggested Mr Jenrick "rushed through" the application so that Mr Desmond's company could avoid the Community Infrastructure Levy.
'Highly inappropriate'
The opposition says Mr Jenrick also overruled his advisers to reduce the amount of affordable housing required in the development, potentially saving Mr Desmond a further £106m.
Labour's shadow communities secretary Steve Reed said he was "far from satisfied" with Mr Jenrick's explanation of events, claiming the text exchanges with Mr Desmond were "highly inappropriate" and "not in the spirit of the ministerial code of conduct".
"The housing secretary needs to explain these discrepancies as a matter of urgency: the public must be reassured that there is not one rule for the Conservatives and their wealthy donors and another rule for everyone else," he added.
Speaking in the Commons before the documents were released, Mr Jenrick said the accusations were "not simply wrong but actually outrageous", adding that the decision had been made on its merits after a thorough process, but he admitted "things could and should have been done differently".
"On reflection, I should have handled the communication differently," he said.
Conservative backbencher Sir Bernard Jenkin backed Mr Jenrick to stay in his job and told BBC Radio 4's Today programme that while there had been a mistake there was "no sign of actual maladministration".
blocked drains canning town

Source link